EXCLUSIVE INTERVIEW: JOHNATHAN "KING BAINES" BAINES WHO PERFORMS UNDER GO4 BROKE ENTERTAINMENT 
(Currently being promoted heavily on "The Artist to Watch Mixtape" by Realrappromo.com….. Soundcloud.com/realrappromo/sets/artist-to-watch-volume-1…King Baines is the hottest property in music right now and did his first promotional song ever because of first fan request)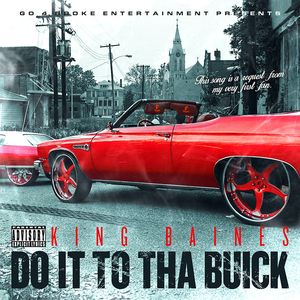 What was the motivation behind your song?
Do it to the Buick has like the craziest origin though. I usually implement my life in every song I record because I'm only trying to be the voice for those who can relate but this whole idea came about from one of the most unexpected encounters I've had as a quote unquote local rapper. 

Could you share one of your experiences with your fan that shocked you most?
One of the few times we decide to splurge, I'm in the mall with Snake of course and just when we pass the food court we both hear "BAINES" being shouted from somewhere in the crowd over there and at first I'm thinking it's one of my people so I look and out of the crowd bursts this little white girl, about 150 pounds soaking wet looking like an Abercrombie and fitch model who runs up to me and starts screaming to me how much she appreciates my music! First of all I'm blown away because it's rare that local artists are even approached like this and secondly here's a girl who is seemingly a total opposite of King Baines reciting lines and telling me how much she can relate to some personal issues I often put in my music. 
What prompted the idea of your first promotional song?
The song originated from the last thing she left me with before she went back to her friends it was almost ominous. 

WHOA! So what's your message to her?
Right before she left, I explained our approach to making it big and she gave me the biggest sense of confidence when she yelled "next time I see you it'll be on tv!"


So we could conclude that her first contact with you solely inspired the production of this song?
Of course that wasn't the case because we ended up running into each other a last time in the parking lot and to my surprise; she was getting into one of the cleanest, 86-87, Buick regal I'd ever seen. 

What encouragement have you received from your fan that inspired the production of your song?
Turns out her dad collects older model Buick and restores them, this was her graduation gift. She slapped the top of the car and said "I need my own song". She went on to say "I've never heard a song about a Buick but this car is my heart". Snake was immediately inspired! By the time we showed back up to the studio, he had the idea and I had a hook. 

Your fans are eager to listen to the hottest Buick song ever, how can they get it?
My song is free download at: www.go4rokeentertainment.com on the offer page. 

How would you dedicate your first promotional song ever to your first fan? 
I never caught her name but whoever you are and wherever you may be, this one's for you!